Entrepreneur Anthony Agyeman Gave Ted Talk On The Art Of Scaling Businesses
Anthony Agyeman's proven strategies and methods ensure businesses unlock their hidden potential and grow multi-fold within months.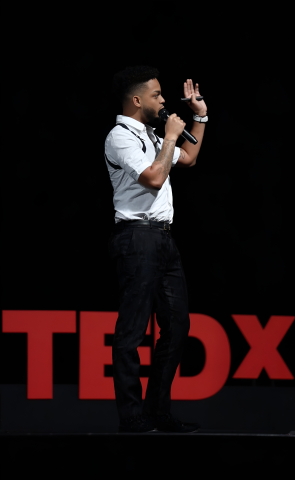 Anthony Agyeman, a seasoned entrepreneur with a remarkable track record in scaling businesses, recently delivered an inspiring TED Talk on the art of scaling companies. With over a decade of experience and an impressive portfolio of accomplishments, Agyeman has successfully scaled more than four companies to seven figures within a single year. His expertise and proven strategies have earned him accolades from renowned publications such as Forbes, Bloomberg, Disrupt, click funnels, and Medium.
Anthony Agyeman believes scaling a company shouldn't be difficult; drawing from his journey, he shared insights about finding the right roadmap to drive exponential growth during his TED Talk. "I had insignificant business acumen when I started my first business at 16. However, my determination to create a successful venture led me to experiment and learn effective methods for growth and scaling. Since then, I have achieved tremendous success and reproduced amazing results consistently.", Agyeman explained.
Looking to the future, Agyeman has set his sights on partnering with other businesses, leveraging his expertise to help them scale their operations. "We want to collaborate with businesses that have the potential to grow. We have a proven system that can triple offer sales within just 90 days, shifting it to autopilot so you can have the freedom to spend quality time with your family, travel, or simply relax," he added.
Scaling Offers, Agyeman's flagship company, has been instrumental in transforming businesses by optimizing their processes, refining offer structures, streamlining sales funnels, and creating compelling financial pitches. Their team of experts takes care of all advertising needs, staff recruitment, and training, ensuring a seamless transition toward growth and profitability.
"Our approach is centered around eliminating the top hurdles hindering business growth, such as traffic problems, structure challenges, and the desire to micromanage every aspect. We are committed to delivering exceptional results, and if we fail to triple your profits within 90 days, we will continue working for free until we do," Agyeman emphasized.
Agyeman's business ventures have consistently generated six-figure revenues, with one standout company achieving an impressive revenue of $1 million and maintaining a remarkable 50% profit margin. With a growing network of over 20 partnered businesses, Scaling Offers is poised to make an even greater impact.
For businesses seeking to achieve rapid growth, Scaling Offers presents an unparalleled opportunity to work with a renowned expert in scaling companies. With their proven systems, remarkable track record, and dedication to results, Scaling Offers is the go-to partner for companies looking to thrive in today's competitive market.
To learn more about Scaling Offers and how they can help your business achieve unprecedented growth, visit their website at www.scalingoffers.com
For updates, follow Anthony Agyeman on Instagram: https://www.instagram.com/onlinemoney
About Scaling Offers:
Founded by young entrepreneur Anthony Agyeman, Scaling Offers is a company that partners with companies to grow them multi-folds in just a few months. The company follows proven methodologies and procedures developed by Anthony from his self-learning and continuous trial & error. Since its inception, the company has partnered with over 20 businesses, boosting their sales and revenues by consistently working to optimize their processes and remove the barriers to growth.
Media Contact
Company Name: Scaling Offers
Contact Person: Anthony Agyeman
Email: Send Email
City: Miami
State: Florida
Country: United States
Website: www.scalingoffers.com