Mercedes-Benz Sprinter Added to the Luxury Fleets of Eddie Limo Services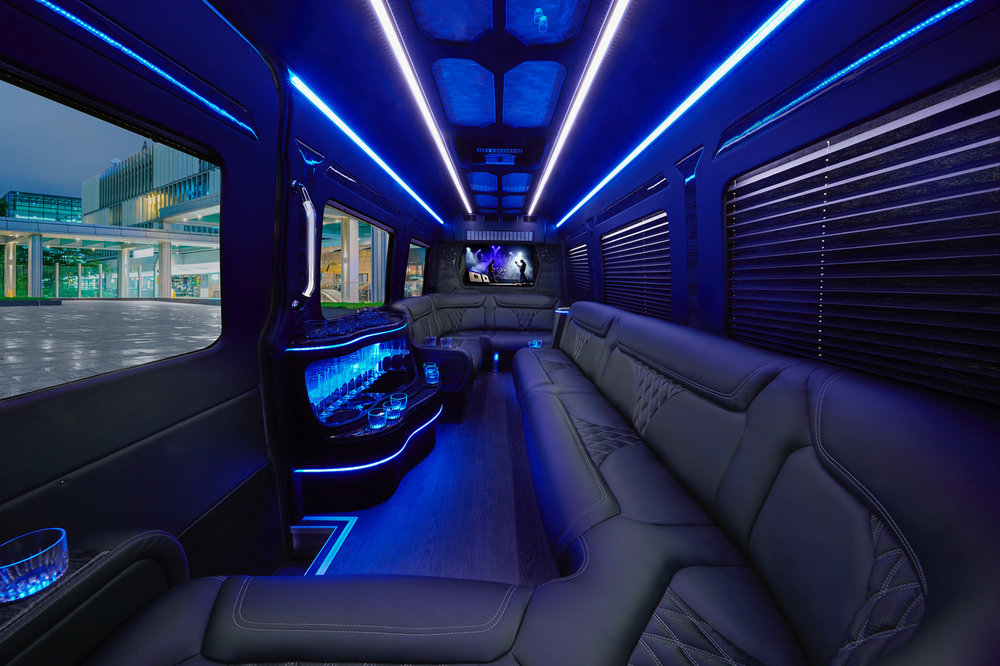 Eddie Limo is pleased to announce a new addition to its fleet of limousines: the Mercedes-Benz Sprinter. The custom-built Mercedes-Benz Sprinter limo bus is the perfect blend of size and style. It provides the first-class comfort with plenty of elbow room. The spacious luxury limo has over 6 feet of interior height and a large sliding door, providing ease for loading passengers on and off the Mercedes Sprinter. Mainly used as a party vehicle, the Mercedes-Benz Sprinter is equipped with all the limousine amenities such as a wet bar, state-of-the-art sound system, colour change ceilings, laser light show, large LCD screens, DVD player, Radio with Bluetooth connectivity, and a privacy divider.
As one of the oldest transportation companies, Eddie Limo prides itself in its ability to provide the most affordable and clean limo service Denver and its surrounding cities and areas such as Englewood, Fort Collins, Glendale, Lakewood amongst others. Their specialty spans several forms of luxury transportation while making a point to provide the best service for its clients. The transport company also takes pride in the fleet being able to meet every standard of luxury transport services. Apart from providing affordable services, Eddie Limo ensures that all products give an aura of sophistication and style. The transport company is also well suited for all limo services including pleasure and business. They also provide services that enable people move in groups and that's where the Mercedes-Benz Sprinter Limo falls in.
The Mercedes-Benz Sprinter limo bus contains all the elegance and fun features found in a normal limousine. The luxurious limo is big enough to hold guests comfortably, allowing room to move and groove, but small enough to keep guests intimately engaged. With a 14-passenger capacity, the luxury vehicle is available in the black exterior. The Sprinter is built with a wood floor to give it a ground venue feel. It also has touch controls, custom leather seating, sleek single-window design and large beverage coolers. This is just about everything a party would require including the stress-free ride along the way.
With a wide collection of corporate sedans, custom limos, party bus limos, Eddie Limo stands out in the transportation sector in Denver. This is because of the uniqueness of the service they provide. Eddie Limo trains its staff regularly with modern systems and software. The members of staff are also taught to have necessary foresight to anticipate clients' expectations and live up close to them. In line with providing the best service for clients, the company takes punctuality to heart and always ensures to be on time for clients. Eddie Limo uses a transparent operations process to maintain a cordial relationship with clients. They operate on values such as equity, reliability and safety, respect and excellence to achieve the vision of the company.
For more information, visit the company's website, https://eddielimo.com/.
Media Contact
Company Name: Eddie Limo
Contact Person: George
Email: Send Email
Phone: +1 303-803-7363
Address:4353 Kalamath St
City: Denver
State: CO 80211
Country: United States
Website: https://eddielimo.com/