The World's Largest B2B Food, Beverage, and Agriculture Virtual Exhibition, Speaks at an International Event Via WFoodExpo's CEO Ammar Ghadban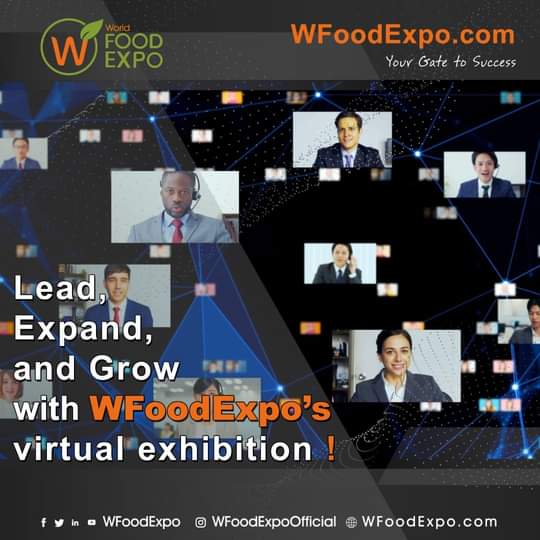 April 5, 2021 – WFoodExpo.com is the first and the largest virtual B2B food, beverage, and agriculture exhibition. It connects the global F&B community under one roof. It also provides exporters and importers the right direction and channels to run their business smoothly. This year's expo focused attention on building a better future for the entire sector.
WFoodExpo organized the virtual event titled "Rethinking the Future of Food & Beverage Trading Industry"on March 24, '21.The event shed light on the impact of COVID-19 on the F&B industry and how the business has transformed in the post-pandemic era. Also discussed were topics like the future of F&B trade and its evolution and the WFoodExpo.com as the solution to building a better future.
"We set foot on the road to build a better future for the entire F&B community", said a guest attending the event.
The B2B event was widely attended by over 1200 guests including F&B exporters, importers, business owners, and wholesalers. The participants featured people from more than 60 countries including the USA, UK, India, Ukraine, China, Latin America, the UAE, and more. The event aimed at organizing and linking all traders and discussed several aspects of the post-pandemic era and the digital age. Notable speakers enthralled the guests with their insights, experiences and stories. This international virtual event for B2B food, beverage and agricultural machinery community also gave a chance to the various companies to showcase their products and services.
All the guests attending this event agreed that WFoodExpo is the key to improve the F&B industry. It plays a significant role in enabling F&B traders to connect efficiently and run their business smoothly without worrying about closed borders or limitations.
Ammar Ghadban, the founder and owner of WFoodExpo.com, invited the guests to join the exhibition and also explained the many features and benefits of getting involved. He also displayed the wide range of food, beverage, and agricultural products and machinery that are featured on the website. Some of the features that were raved about include the unpaid stuck containers service, the RFQ (request for quotation), among others. All members will have access to these features and more.
WFoodExpo.com is considered to be an important forum worldwide. Its dedication to building a better and brighter future for the F&B industry is commended everywhere. This year, as usual, WFoodExpo got the international F&B community on one place to connect, interact and share their experiences with each other. Overall, the company's vision is to become the preferred specialized virtual exhibition for businesses and experts within the B2B F&B community.
For more information, please visit: https://www.wfoodexpo.com/
Media Contact
Company Name: WFoodExpo.com
Contact Person: PR Team
Email: Send Email
Country: Cyprus
Website: https://www.wfoodexpo.com/