Changing Market Dynamics of Meibomian Gland Dysfunction Market in the Seven Major Markets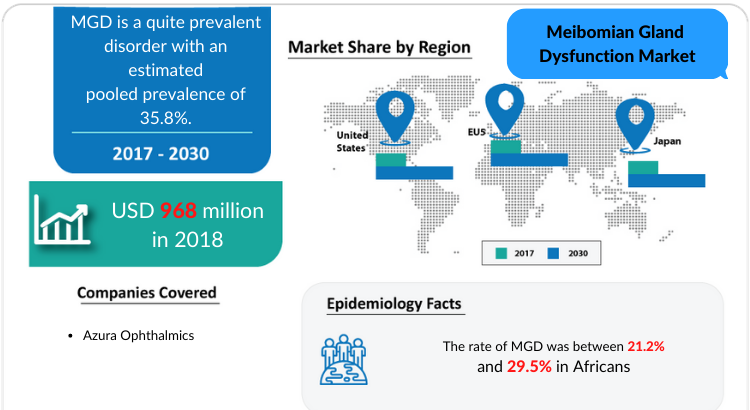 DelveInsight has launched a new report on Meibomian Gland Dysfunction Market
Meibomian glands are the tiny oil glands present on the margin of the eyelids (the edges which touch when the eyelids are closed). These glands secrete oil which coats the surface of our eyes and keeps the water component of our tears from evaporating (drying out).
Meibomian gland dysfunction (MGD) refers to a condition where the Meibomian glands do not secrete enough oil or the oil they secrete is of poor quality. This causes because, the oil gland openings gets plugged up so that less oil comes out of the glands. The oil that does make it out of the glands can be granular (crusty) or otherwise abnormal, and can cause irritation.
Request for free sample copy- https://www.delveinsight.com/sample-request/meibomian-gland-dysfunction-market
The Meibomian Gland Dysfunction market report provides an edge while developing business strategies, by understanding trends shaping and driving the Amyotrophic Lateral Sclerosis (ALS) market.
Meibomian Gland Dysfunction Treatment
Treatments for Meibomian gland dysfunction typically includes, applying warm compresses to the eyelids, followed by massaging the eyelids. The goal of this treatment was to melt and express any thickened oil clogging the openings of Meibomian glands. However, several new treatment options are present now such as, The LipiFlow thermal pulsation system, iLUX, TearCare, Intense pulsed light (IPL), Blephex, Lid debridement, Antibacterial and Cyclosporin eye drops and the Omega-3 supplements.
Key player of Meibomian Gland Dysfunction Market Report
Meibomian Gland Dysfunction Market Insights
Given the increased recognition of the importance of MGD, a great amount of attention has been paid to therapies targeting this condition. The traditional treatments of MGD consist of warm compresses and lid hygiene for removing an obstructed meibum, as well as antibiotics and anti-inflammatory agents to improve the quality of the meibum. However, each of these treatments has a different shortcoming and the treatment of MGD remains challenging.
Meibomian Gland Dysfunction Treatment Market
Despite the numerous possible treatment options for MGD, it is still difficult to obtain complete relief of signs and symptoms. Another option is meibomian gland probing, but this procedure is tedious and somewhat uncomfortable. Some emulsion eye drops containing lipids may be viewed as optional treatments for MGD. Topical azithromycin therapy could lead to clinical control or relief in the symptoms of MGD. Doctors also prescribe nutritional supplementation with omega-3 essential fatty acids as an alternative treatment for MGD. Finally, cyclosporine A may be valuable for the treatment of MGD, although the results are somewhat contradictory in different studies.
Meibomian Gland Dysfunction Drug
Meibomian Gland Dysfunction Market Report Scope
The report covers the descriptive overview of Meibomian Gland Dysfunction, explaining its causes, signs and symptoms, pathophysiology, diagnosis and currently available therapies
Comprehensive insight has been provided into the Meibomian Gland Dysfunction epidemiology and treatment in the 7MM
Additionally, an all-inclusive account of both the current and emerging therapies for Meibomian Gland Dysfunction are provided, along with the assessment of new therapies, which will have an impact on the current treatment landscape
A detailed review of Meibomian Gland Dysfunction market; historical and forecasted is included in the report, covering drug outreach in the 7MM
The report provides an edge while developing business strategies, by understanding trends shaping and driving the global Meibomian Gland Dysfunction market
Request for free sample copy- https://www.delveinsight.com/sample-request/meibomian-gland-dysfunction-market
Table of content
1. Key Insights
2. Executive Summary of Meibomian Gland Dysfunction
3. Competitive Intelligence Analysis for Meibomian Gland Dysfunction
4. Meibomian Gland Dysfunction: Market Overview at a Glance
5. Meibomian Gland Dysfunction: Disease Background and Overview
6. Patient Journey
7. Meibomian Gland Dysfunction Epidemiology and Patient Population
8. Treatment Algorithm, Current Treatment, and Medical Practices
9. Unmet Needs
10. Key Endpoints of Meibomian Gland Dysfunction Treatment
11. Marketed Products
12. Emerging Therapies
13. Meibomian Gland Dysfunction: Seven Major Market Analysis
14. Attribute analysis
15. 7MM: Market Outlook
16. Access and Reimbursement Overview of Meibomian Gland Dysfunction
17. KOL Views
18. Market Drivers
19. Market Barriers
20. Appendix
21. DelveInsight Capabilities
22. Disclaimer
23. About DelveInsight
Reasons to buy
• The report will help in developing business strategies by understanding trends shaping and driving the Meibomian Gland Dysfunction market
• To understand the future market competition in the Meibomian Gland Dysfunction market and Insightful review of the key market drivers and barriers
• Organize sales and marketing efforts by identifying the best opportunities for Meibomian Gland Dysfunction in the US, Europe (Germany, Spain, Italy, France, and the United Kingdom) and Japan
• Identification of strong upcoming players in the market will help in devising strategies that will help in getting ahead of competitors
• Organize sales and marketing efforts by identifying the best opportunities for Meibomian Gland Dysfunction market
• To understand the future market competition in the Meibomian Gland Dysfunction market
Related Reports
Media Contact
Company Name: DelveInsight Business Research LLP
Contact Person: Vinita Rakheja
Email: Send Email
Phone: 9193216187
Address:304 S. Jones Blvd #2432
Country: United States
Website: www.delveinsight.com/