The latest single "In the Midst of it All" by Ornicia Lowe carries a beautiful message of hope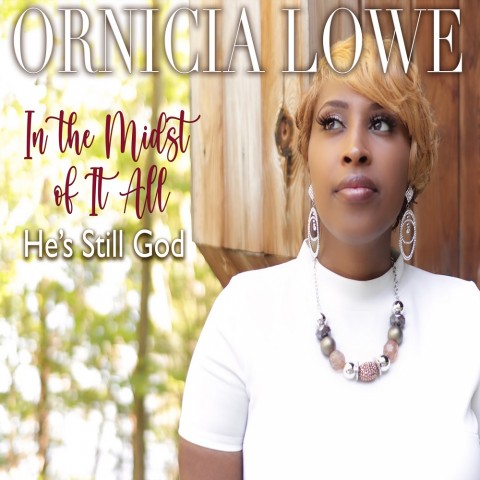 Ornicia Lowe's music is as unique as her name. A multifaceted artist residing in Atlanta, Georgia, Ornicia Lowe is a songwriter, singer, and recording artist, who adds more soothe and grace to the world of gospel music. Ornicia has 3 decades worth of hands-on experience in music, and over this period, she has recorded and performed with various renowned artists. Having released her debut album "Way Home" in 2010 by teaming up with her husband Anthony "Antlow" Lowe, her latest release "In the Midst of it All" is another great track by the duo with a powerful message.
The latest single "In the Midst of it All" by Ornicia Lowe was released on July 10, 2020. It is a soulful song carrying a beautiful message of hope. In challenging times like these, we all need hope, now more than ever, and this song comes in as a motivator, telling us to cling on to hope, and to believe in the almighty God. This song was written by Ornicia and Anthony during this pandemic.
Telling about her latest single "In the Midst of it All", Ornicia says, "It speaks of God's ability to heal and deliver, even amid the current climate we find ourselves in. Whether you're dealing with the loss of a job or relative, or you just need encouragement, this song was written to give hope. To remind us that God is still here. He is still full of love and care for all of humanity, and His plan to give you a good future hasn't changed."
Driven by faith and motivated by a supportive family to make music, Ornicia has been passionate about music from an early age. Having been born in a family of musicians, it pushed her even more towards her love for music. Ornicia is a versatile artist originally from California Bay Area, who doesn't like to box her music style to any particular genre. Her music is a blend of praise and worship, contemporary and tradition Gospel…
Ornicia is thankful for her supportive and loving fans. She strongly believes that she has become a successful musician today, because of her fans' love and faith in her.
Listen to the single "In the Midst of it All" now on YouTube.com.
Media Contact
Company Name: Heaven's Haven Entertainment and Production Inc.
Contact Person: Anthony Lowe
Email: Send Email
Phone: 770-580-0526
Country: United States
Website: www.ornicialowe.com