Metabolic Acidosis (MA) – Market Insight, Epidemiology and Market Forecast – 2030
The Metabolic acidosis market size was estimated to be USD 26.89 Million in 2017 in 7MM+3EM, which was significantly dominated by alkali therapies.
DelveInsight's "Metabolic Acidosis – Market Insights, Epidemiology, and Market Forecast-2030″ report delivers an in-depth understanding of the Metabolic Acidosis, historical and forecasted epidemiology as well as the Metabolic Acidosis market trends.
Geography Covered
The United States
EU5 (Germany, France, Italy, Spain, and the United Kingdom)
Japan
Brazil
China
Mexico
Study Period: 2017-2030
Metabolic acidosis (MA) is a result of a disturbance in the homeostasis of plasma acidity or acidosis of metabolic, i.e., primary reduction of bicarbonate (HCO3−), typically with a compensatory decrease in carbon dioxide partial pressure (Pco2), and a resultant increase of hydrogen ion in blood.
Request for free sample pages: https://www.delveinsight.com/sample-request/metabolic-acidosis-market
Metabolic Acidosis Epidemiology
The Metabolic Acidosis epidemiology division provide insights about historical and current Metabolic Acidosis patient pool and forecasted trend for every seven major countries. It helps to recognize the causes of current and forecasted trends by exploring numerous studies and views of key opinion leaders. This part of the DelveInsight report also provides the diagnosed patient pool and their trends along with assumptions undertaken.
Know more about report offerings: https://www.delveinsight.com/report-store/metabolic-acidosis-market
Key Highlights: Metabolic acidosis Epidemiology
As per the DelveInsight analysis, the total Metabolic acidosis prevalent cases in 7MM+3EM (the US, EU5 (the UK, Italy, Germany, France, and Spain) and Japan + China, Brazil and Mexico) were 19,982,276 cases in 2017.
China, among all the geographies mapped, accounted for the highest Metabolic acidosis prevalence.
Metabolic acidosis epidemiological analysis demonstrated a higher predisposition of males accounting for 55% of all the MA cases in the 7MM+3EM.
Learn more: https://www.delveinsight.com/blog/metabolic-acidosis-market/
Metabolic Acidosis Market
The Metabolic Acidosis market report provides current treatment practices, emerging drugs, Metabolic Acidosis market share of the individual therapies, current and forecasted Metabolic Acidosis market Size from 2017 to 2030 segmented by seven major markets. The Report also covers current Metabolic Acidosis treatment practice/algorithm, market drivers, market barriers and unmet medical needs to curate best of the opportunities and assesses the underlying potential of the market.
Key Highlights: Metabolic Acidosis Market
The Metabolic acidosis market size was estimated to be USD 26.89 Million in 2017 in 7MM+3EM, which was significantly dominated by alkali therapies.
Currently, Tricida and Advicenne are the two pharmaceutical companies actively engaged in the development of novel therapies and advancing Metabolic acidosis treatment market.
The expected launch of MA pipeline therapies Veverimer (Tricida), and ADV7103 (Advicenne), shall significantly influence the Metabolic acidosis market size growth by 2030.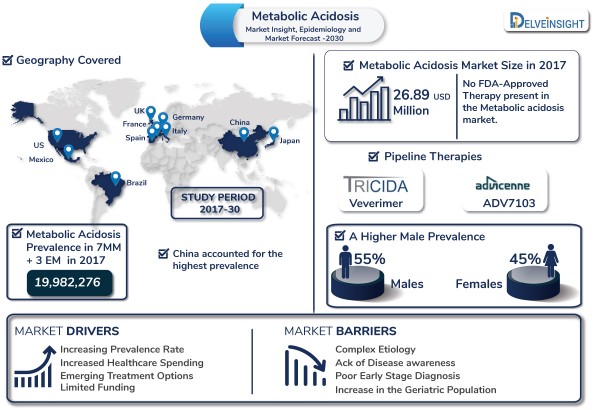 Scope of the Report
The report covers the descriptive overview of Metabolic Acidosis, explaining its causes, signs and symptoms, pathophysiology, and currently available therapies.
Comprehensive insight has been provided into the Metabolic Acidosis epidemiology and treatment in the 10EM.
Additionally, an all-inclusive account of both the current therapeutic strategies and emerging therapies for Metabolic Acidosis is provided, along with the assessment of new therapies, which will have an impact on the current treatment landscape.
A detailed review of Metabolic Acidosis market; historical and forecasted is included in the report, covering drug outreach in the 10EM.
The report provides an edge while developing business strategies, by understanding trends shaping and driving the Global Metabolic Acidosis market
Table of Contents
1. Key Insights
2. Executive Summary of Metabolic Acidosis
3. SWOT Analysis of Metabolic Acidosis
4. Metabolic Acidosis: Market Overview at a Glance
5. Metabolic acidosis: Disease Background and Overview
6. Diagnosis
7. Epidemiology and Patient Population
8. The United States Epidemiology
9. EU-5 Epidemiology
10. Treatment of metabolic acidosis in CKD
11. Unmet Needs
12. Patient Journey of Metabolic Acidosis
13. Attribute Analysis of Metabolic Acidosis
14. Emerging Therapies
15. Metabolic Acidosis: 10 EM Market Analysis
16. 10EM: Market Outlook
17. The United States: Market Size
18. EU-5 countries: Market Size
19. Access and Reimbursement Overview of Metabolic acidosis
20. KOL Views
21. Market Drivers
22. Market Barriers
23. Appendix
24. DelveInsight Capabilities
25. Disclaimer
26. About DelveInsight
About DelveInsight
DelveInsight is a premier Business Consulting and Market Research firm, focused exclusively on the life science segment. With a wide array of smart end-to-end solutions, the firm helps the global Pharmaceutical and Bio-Tech companies formulate prudent business decisions for better growth in the market.
Browse through our vast repository from here.
Media Contact
Company Name: DelveInsight Business Research LLP
Contact Person: Vinita Rakheja
Email: Send Email
Phone: 9193216187
Address:304 S. Jones Blvd #2432
City: Albany
State: New York
Country: United States
Website: www.delveinsight.com/