Erika Mejia the Founder of Lovely Roses will dictate Courses for all Entrepreneurs
If we want to have qualifications with which to describe Erika Mejía those are perseverance and dedication, she is a young entrepreneur who came with a suitcase of illusions to fulfill her American dream, today at 34 years of age she has become The Queen of Roses. Today she is not only a successful businesswoman but a worthy example who decided to share her knowledge with entrepreneurs.
Today Erika not only wants to continue conquering the world from Miami with her unique concept of Preserved Roses, but she decided to share her knowledge through training, where she will personally guide them so that they can learn what the Lovely concept of their arrangements is, both in Natural Roses and Preserved, and much more knowledge providing comprehensive training to help them in their business and in their personal lives.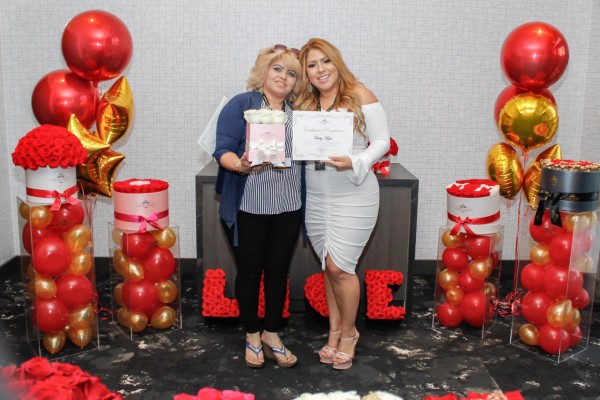 These trainings will be designed for small groups with the aim of giving personalized attention and ensuring that this learning is totally successful. They will be provided with the basic materials and basic tools and tools to begin the development of the arrangements.
This training will have 3 intensive days of theoretical and practical training, where 24 hours of information will be given, the first day (Basic Level), will be focused on working with natural roses where you can learn the different techniques and secrets to work with this type of arrangements; the second day (Intermediate Level) we will be working with our beautiful preserved roses, you will be able to know the benefits and applications of this new concept in roses.
To finish the third day (Advanced Level), with more practical than theoretical training, you will focus on the most complex collections of Lovely Roses, where you can perfect the techniques learned in the previous levels and develop new techniques.
Erika Mejía, originally from Honduras, arrived in Miami at the age of 19, and only $200 in her pocket, now she is a famous florist and businesswoman. Looking for a better future, Erika had to face the reality of a country that is not hers. He came to Miami trying to be an entrepreneur and to be someone in this life. It really touched him like any immigrant: he started from scratch, trying to get a job.
He was working in various places and trying to undertake, he got a job in a flower shop, for his good performance and effort, at the end of the project, the owner offered him a job making flower arrangements. For Erika roses are a delight. But what he had to do was clean, pick up trash, remove super heavy buckets of water from the fridge. And I knew when I was going to have to make arrangements. With patience Erika waited and finally had the opportunity to learn rose handling.
Such has been the growth of the Queen of Roses that she has been able to show her talent and the quality of her work in events such as Premios Juventud, Nuestra Belleza Latina, Premios Lo Nuestro, among other recognized events in the Hispanic market. Through social networks you can see the work done for artists such as Maluma, Demi Lovato, Camila Cabello, among others. All this has made Erika and Lovely Roses rise as the foam in the cream and cream of the Miami show business.
The idea of ​​these trainings is to provide the opportunity to young people and adults to undertake in the wonderful world of roses and to give fundamental tools and life experiences implemented and lived by Érika in her walk until she became "The Queen of Roses" with a brand like Lovely Roses that every day gives more to talk about among celebrities in Miami, United States and the world.
Media Contact
Company Name: M2 Studios
Contact Person: Media Relations
Email: Send Email
City: Miami
State: Florida
Country: United States
Website: http://www.m2studios.net/