"NORKY" the Peneagle Joins Quigley In The Long Awaited Sequel "Quigley 2" – Fun For The Whole Family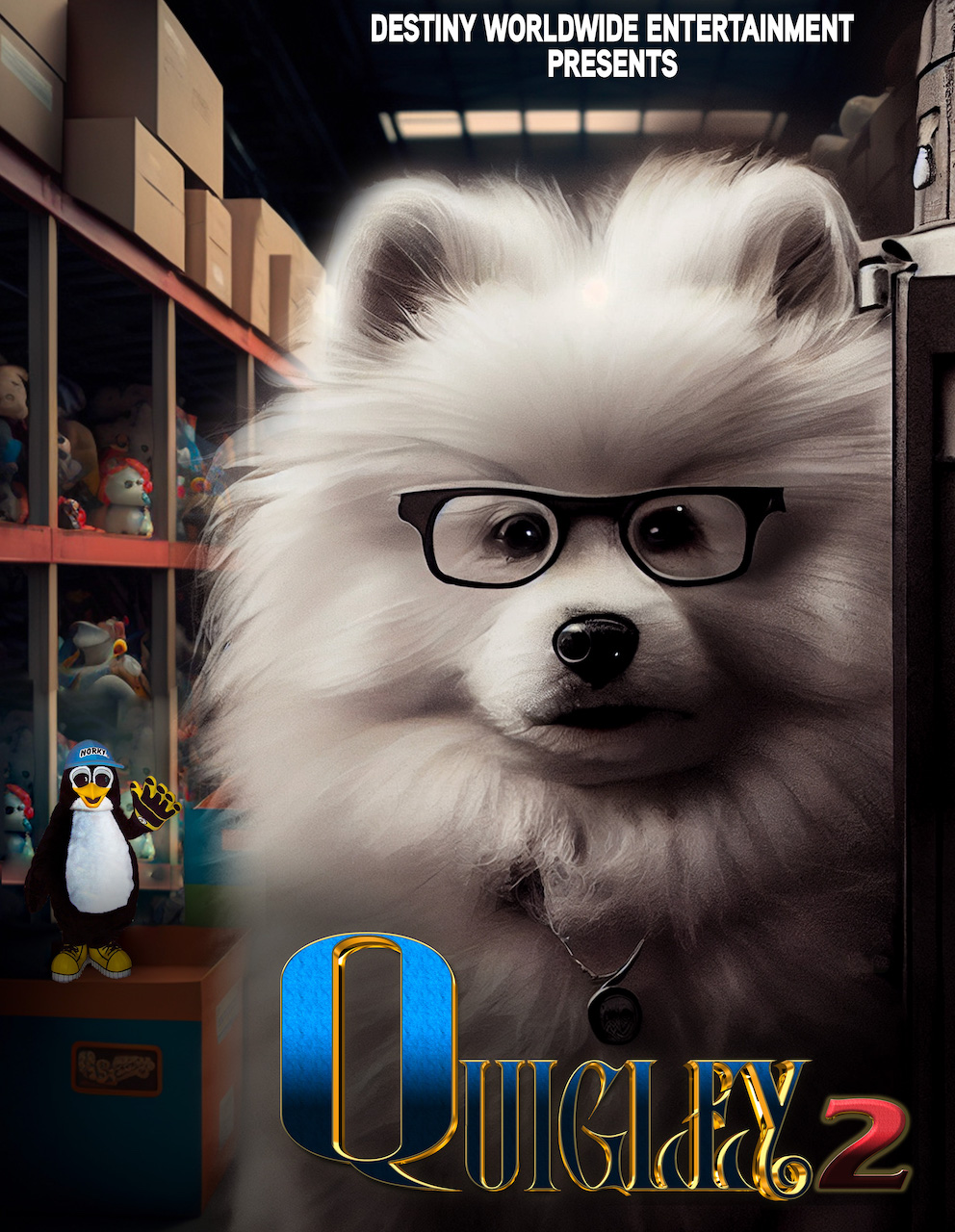 "Norky" the Peneagle is joining the sequel to the "Quigley," the #1 Pomeranian dog film in the world, in the long awaited sequel "Quigley 2."
"Quigley" stars Golden Globe/Academy Award nominee Gary Busey (The Buddy Holly Story, Point Break, The Player, Lethal Weapon), Oz Perkins (Legally Blonde, Not Another Teen Movie), Curtis Armstrong (Risky Business, Revenge of the Nerds, Better Off Dead), and Christopher Atkins (The Blue Lagoon, Listen To Me, Dallas).
"Quigley" was named on the list of the Top 20 Family Films of all time.
https://theworldnewsnetwork.com/2019/11/15/the-20-best-children-family-movies-in-the-history-of-film/
Writer/Director William Byron Hillman has worked with major stars like Gary Busey, Rock Hudson, Tony Curtis and Shelley Long as well as with most film studios and television networks. His passion is children and animals. While he's written genres from comedies to thrillers, his passion is hearing kids laugh. Three of his most successful films are: "The Man From Clover Grove", "The Adventures of Ragtime" and "Quigley". Bill has befriended many stunt performers and loves working with them to design action stunts that entertain kids of all ages. He believes one of the greatest sounds in the world is laughter and strives to develop scenes that lead to prosperity. While many of his films enjoyed success, when he wrote Quigley it opened a unique definition for amusement and enthusiasm. Bill is an avid Pomeranian lover and has joined Pom Groups in every part of the world. As the writer, producer and director of the motion picture Quigley, the character instantly conceived an international dog hero. The film, translated into many languages, has delighted audiences and Pom owners all over the planet.
"Quigley 2" Synopsis:
A small toy factory, staffed entirely with Autistic personnel, is owned by Bob and Artie.
Ro is a rich woman, thought to be a lifelong friend, but is conniving behind their backs to put them out of business.
She wants to develop the property and refers to Bob and Artie as collateral damage. The Toy Factory is secured by a family trust lease, but if they can't maintain the terms, the agreement becomes null and void. Ro hires Mitch, a slacker, to take care of the problem and put them out of business. To keep his hands clean, Mitch hires Vinnie and Moe, 2 less than competent goof-offs to do the job for him. That's when the emergency bell in heaven rings.
The Arch Angels gather. Next on the list is Thurmond, a wingless Angel that has been waiting many years for another shot at gaining wings.
Thurmond is heaven's canine dance team trainer, so when told to take a friend, he chooses 2 of his best friends, Quigley, and Knuckles to accompany him.
Their mission, to rescue the toy factory, help the autistic staff stay employed, stop the slackers, and make sure every child in town gets a toy for Christmas.
"NORKY" the Hybrid Peneagle (part cuddly Penguin -part fluffy Eagle) that can swim & fly, from the North Pole known as the "Dream Adventurer", who within his presence Holds the Special Key of the Northern Lights which releases the Dreams in All of Us all year long. "NORKY" is the "Good Deeds Ambassador" & "Official MailBird" of the North Pole. "NORKY" protects Children & keeps them safe while guiding them on their Dream Adventures. "NORKY" is the brainchild of creator Steve Allgeier.
"NORKY" joins "Quigley" in the most highly anticipated family film sequel in the world. "Quigley 2" will have an all-star cast of your favorite actors….coming soon!!
The official website for William Byron Hillman may be found at https://www.williamhillman.com
The official website for Quigley movies may be found at http://www.quigleysite.com
The official website for "NORKY" may be found at http://www.norky.com
Media Contact
Company Name: World Star PR
Contact Person: Jimmy Star
Email: Send Email
Phone: 631-506-6600
Country: United States
Website: https://www.facebook.com/WorldStarPR/