The Spiritual Real Estate Investors Bible: 31 Principles to Ensure Financial and Lifestyle Freedom by Peter Mazzuchin
The Spiritual Real Estate Investors Bible by Peter Mazzuchin is a new and refreshing set of spiritual life lessons for people interested in becoming real estate investors. The author, Peter Mazzuchin, is a real estate broker, long-time investor, and founder and CEO of Actus Real Estate Investors Club. Peter's vision is to educate and empower investors using an investment system founded on the core principle of Spiritual Real Estate Investing, where Everyone Wins. It doesn't matter if it's investors, staff, residents, or even suppliers; all can benefit if treated with the utmost respect and effective systems and accountability are in place.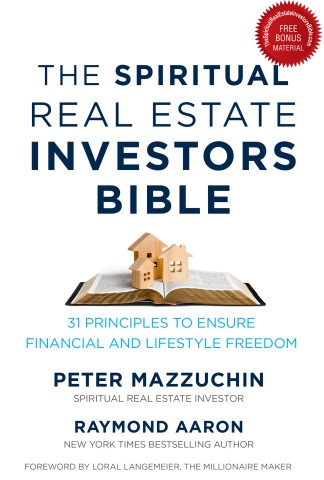 Peter based the lessons in The Spiritual Real Estate Investors Bible on 31 principles corresponding to Proverbs. And the book introduces a Bible-based system for good reason: Real estate investing, when done spiritually, is an outstanding investment. All the people involved are important, whether they conceptualize, invest, finance, maintain, manage, occupy, repurpose, live in, or work on our properties. Everyone is to be respected and loved. To quote the author, "The asset isn't the real estate; it's the people. If we focus on consistently exceeding their expectations, we'll have provided second-mile service, and no one will ever be disappointed."
Peter walks his talk. He and the Actus Real Estate Group are passionate about helping people own and sell properties, focusing on doubling the client's net worth in eight years or less. Over 80% of the people they serve are repeat clients or referrals, and they provide those clients with a written 100% Guaranteed Buyer, Seller, or Investor Easy Exit Service Agreement. If clients aren't completely satisfied, they can cancel the agreement without any obligation.
Find out more about Peter's book and the valuable bonus offers included with any online purchase at TheSpiritualRealEstateInvestorsBible.com or go to Amazon to purchase his book.
Media Contact
Contact Person: Peter Mazzuchin
Email: Send Email
Country: Canada
Website: http://thespiritualrealestateinvestorsbible.com