OLY.B & Brayden Bugazzi are bringing a surprise to the Art Basel Miami
OLY.B, an innovative artist, and Brayden Bugazzi, a collagist from Los Angeles, have teamed up for the participation in the SCOPE Miami-2022 art fair.
The event will take place from November 29 to December 4 on South Beach's iconic Ocean Drive.
The collaboration's ​result will be an exhibition based on OLY.B's art.
"The core will consist of three of my works that Brayden Bugazzi made into large collages and I further elaborated by painting", as OLY.B told.
Also, OLY.B and Brayden Bugazzi's joint, by-invitation-only show is scheduled for December 3 in Miami Beach, to which the artist will bring eight paintings from the new "Pervaded" collection.
As a bonus, guests will have the opportunity not only to see, but also to listen to the artist's favorite picture "Pervaded" upon scanning a QR code. All that will be needed is to put on the headphones and close the eyes. The rest will be told by the melody that has been made specifically for OLY.B by the music producer Tony Marell.
ABOUT:
OLY.B is an innovative painter from Los Angeles. Inspired by several different popular ways of painting, she has created her own recognizable style.
Each of OLY.B's artworks tells a specific open-ended story. The central character is a woman personifying unity. She is powerful, emotional, outspoken, and sexual. She is as wise as nature and as naive as a child.
According to the artist, all her works present episodes from her life. That is why they are not just beautiful pictures, but also experienced events.
"Each of the art pieces tells various stories of my personal feelings, whom I met or saw, and what was told. I take a piece of my life and my heart and leave it on canvas", as OLY.B confessed.
Her art is easy to recognize by the combination of specific colors and the original lines created by her unique technique. Her favorite material is acrylic paint.
Some of her most famous artworks are "Jenga" and "Pervaded". The last artwork gave the name to the whole series.
According to OLY.B, "Prevaded" is her best artwork.
"It almost literally emanates pure energy and feelings that describe my whole work", as OLY.B says. "The woman in this painting is obsessed with pleasure which permeates her through and through. She feels pleasure and pain at the same time, losing control because of that. Being euphoric and addicted to all these emotions, she has closed her eyes to the world around her".
Brayden Bugazzi is a collage artist. He creates memorable portraits by layering old newspapers and magazines and mixing them with other art mediums. He has a Bachelor's Degree in Fine Art Photography from Herberger Institute for Design and the Arts, Arizona State University.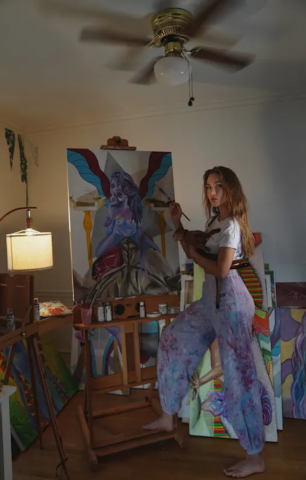 Instagram: https://www.instagram.com/art.oly
Media Contact
Company Name: OLY.B
Email: Send Email
Country: United States
Website: https://www.olyb.art/