What Kind of Hairs and Deals Yolissa Providing On 2022 Black Friday
Black Friday is coming! Are you ready to rock it?
Black Friday is coming! Are you ready to rock it?
Yolissa Hair provides plenty of good quality human hairs and great sales on Black Friday. We'd like to introduce you to our hair products and Black Friday online deals via this blog to help you find the most suitable hair for yourself and your loved ones at the best prices.
The Hairs Yolissa Providing On 2022 Black Friday
With the change in market demand and fashion trends, there are more and more types of human hair wigs on the market to meet the various needs of different customers. All kinds of hairs could be found in Yolissa and they are all available on Black Friday Sale. Let me introduce you to the different categories of Yolissa's hairs:
(1) Lace Wigs
1) Classified by lace size
Usually, lace wigs can be classified by the size of the lace part into the following categories: lace front wig, lace closure wig, T part wig, and full lace wig.
Lace front wig can be subdivided into 13*4 wig, 13*6 wig and 360 wig. The lace size is large and can make more styling.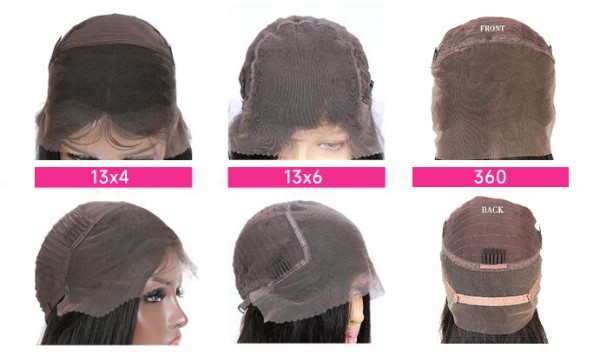 Lace closure wig can be further divided into 4*4 wig, 5*5 wig, and 6*6 wig according to the lace size. The lace part of lace closure wig only exists in the middle of the hair. It supports to do the middle part and slight side part, but the price will be cheaper than the lace front wig.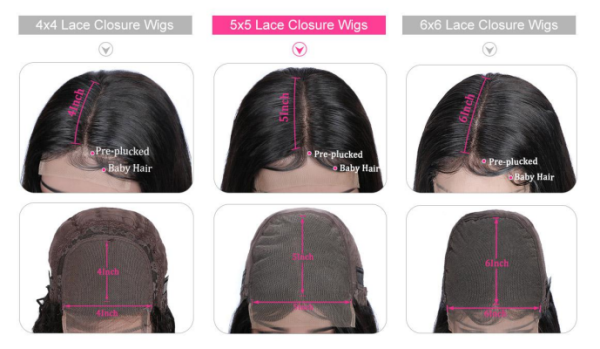 T part wig has a T shape lace area. In the front, there is a 13 inches narrow lace from ear to ear, and in the middle of the parting space, there is a 5 inches depth narrow lace. This type of wig makes the best use of lace, but it has limits to styling.

Full lace wig, as the name suggests, is made entirely of lace. Various hairstyles can be done without any restrictions. Of course, the price is the most expensive.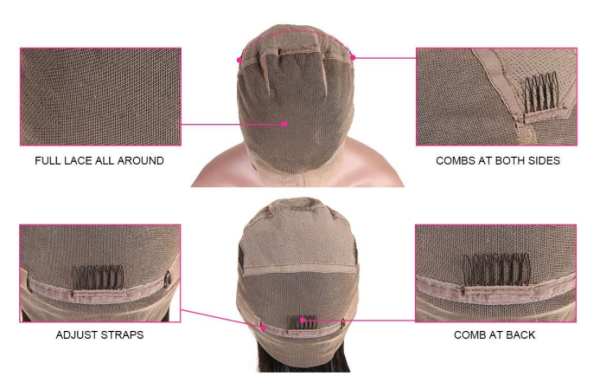 2) Classified by Lace Type
Nowadays, Yolissa has three kinds of lace: HD lace and regular Swiss lace. According to the different lace colors for regular Swiss lace, it can be divided into medium brown lace and transparent lace.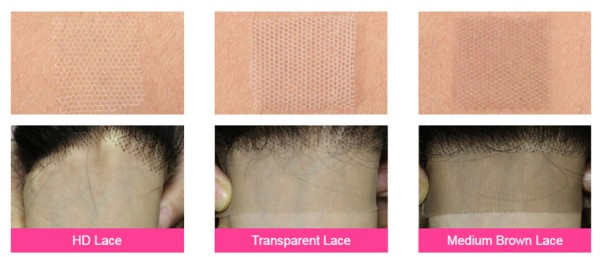 Both HD lace and Swiss lace are good-quality lace and can create a natural-looking. HD lace is thinner and softer than Swiss lace. It can melt to all skin tones and create an undetectable result. However, it is more fragile than Swiss lace. When using, it needs to be taken care very well. Besides, HD lace is at a higher price. You can pick the HD lace wigs or Swiss lace wigs according to the demand and budget.
3) Classified by Wig Length
Yolissa has a wide range of wig lengths from 8inch to 40inch. 8-12 inches wigs belong to short wigs, 14-22 inches belong to medium length wigs, and 24-40inches belong to long wigs.
Here is the wig length chart for reference. According to the looking you desire and find the corresponding link quickly.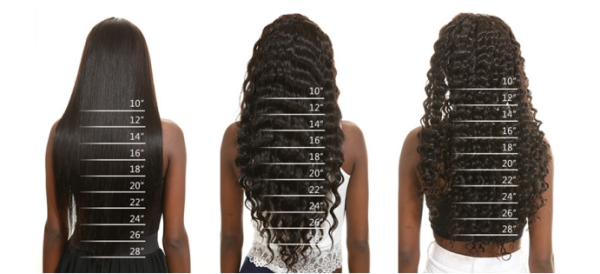 4) Classified by Wig Color
There is no need to say much about the natural black color. It is the most popular and classic hair color style. However, except for the natural black color wig, Yolissa also has the 613 blonde wig and other colored wigs, like brown wigs, honey blonde wigs, burgundy wigs, highlight wigs.
In addition, we recently have developed a lot of new arrival wigs, like pink balayage on brown hair, burnt orange wigs, dark auburn hair. Nowadays, our exclusive original – brown wig with blonde highlights #P4/613 wig is in hot sale. If you are interested in highlight wigs, we recommend you this one.
(2) Wigs Without Lace
The most popular and most common are lace wigs. But for other customers who don't like to use lace or glue, Yolissa also has wigs without lace. The most typical are headband wigs and U/V part wigs.
The headband wigs are all sewn with bundles. There is ice silk fabric and velcro to fasten it. The installation is so easy, only takes a few minutes and no glue is needed. The headband wig is a good choice for beginners and the cost is also very competitive.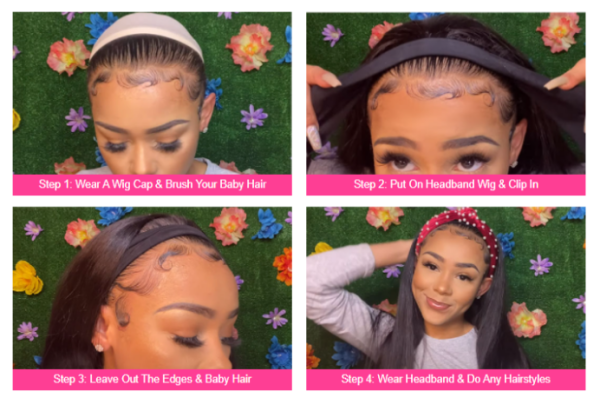 U/V part wigs are also made with all bundles, and in the middle with U and V openings. And in the opening, you need to leave your own natural hair to cover the opening. There are 3-5 clips and adjustable straps, which could be used to fix the wig on the head. The price is also much cheaper.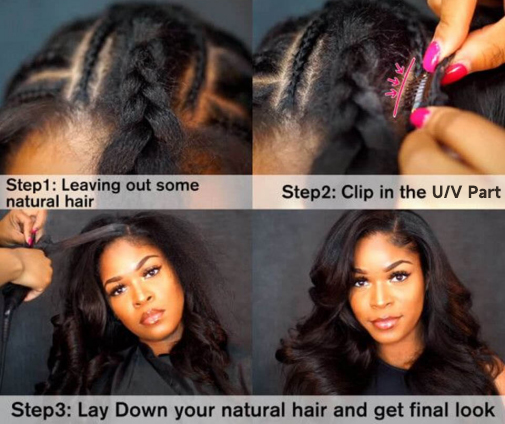 (3) Bundles&Closure/frontal
In addition to the wigs, Yolissa also offers products with bundles and closure/frontal. You can find various combinations of single bundle, 3 bundles, 4 bundles, frontal, closure (4*4, 5*5, 6*6), bundles with closure, bundles with frontal, and so on. And there are different curvature styles: body wave, straight, deep wave, curly, water wave, loose wave, loose deep, yaki straight and wet & wavy.

The Deals Yolissa Providing On 2022 Black Friday
Yolissa provides the best Black Friday deals in 2022 Black Friday. Please pay special attention to the following Black Friday offers:

(1) Big Discount
On Black Friday & Cyber Monday:
$30 $50 $80 Large Coupon! First Come, First Served!
First 50 orders, No threshold $30 Off
First 30 orders, Over $200 get $50 Off
First 10 orders, Over $500 get $80 Off
From 11.25 To 11.30:
Over $499 get $60 Off
Over $389 get $50 Off
Over $279 get $35 Off
Over $159 get $20 Off
PLUS: Free Wigs + Free Gifts + Double Points To Every Order
Over $200 gets Free Wig for all orders
Free gifts for each orders
Get double points when you log in to account and make orders
(2) Flash Sale At Lowest Price
Natural black body wave 5*5 wigs 16-22inch $?
613 blonde body wave lace front wigs $?
613 blonde straight bob wigs $?
#27 honey blonde 4*4 bob wigs $?
Natural black straight bob wigs $?
(3) 2 Wigs In $?9 A Blind Box
One double-digit price blind box with 2 wigs, come and try what specific design product you can get! Good luck!
Hope this article helps you find the Black Friday hair and Black Friday wig that you're looking. If you have questions, contact Yolissa customer service freely, and we are always here for you. I sincerely hope you have a great Black Friday shopping experience at Yolissa Hair.
Media Contact
Company Name: Yolissa Hair
Contact Person: Media Relations
Email: Send Email
Phone: +8615803834514
Address:Jinlanwan Jiudian Xiezilou 13F A Xinxing Road
City: Xuchang
State: Henan
Country: China
Website: yolissahair.com