Award winning artist Lex Lumiere, has released three therapeutic art paperback coloring books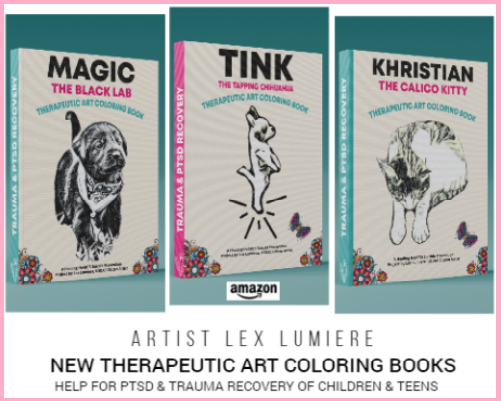 Award winning artist, Lex Lumere has released three new therapeutic art paperback coloring books for children or teens suffering from PTSD due to the pandemic.
The three books include: MAGIC The Black Lab Puppy, KHRISTIAN The Calico Kitty and TINK the tapping chihuahua. Therapeutic Arts coloring books are a great way to work through one's trauma and post traumatic stress disorder and anxiety. According to available statistics, there is a remarkable significant rise in the prevalence of PTSD from a pre-pandemic level of 1.7% to 13% in children/adolescents during COVID-19 pandemic and lockdown.
This is why Lex Lumere created these 3 masterpieces, to provide relief for children or teens suffering from PTSD due to the pandemic, trauma, school shootings, and violence.
There's an inherent therapeutic health benefit in coloring books. Although coloring and therapeutic arts aren't quite the same thing, coloring does offer a slew of mental benefits. Coloring definitely has therapeutic potential to reduce anxiety, create focus or bring [about] more mindfulness. Additionally, therapeutic art allows for processing emotions, exploring choices, and resolving conflicts through creativity.
Lex Lumere's coloring books are used as ice breakers between parent and child, teachers and students in order to work through the difficulties of life in a healthy way. Each of Lex Lumiere's coloring books follows a story line about an animal, that leads to a creative opening for a safe way to vent and release any pent up emotions to help someone heal their life.
Speaking about the books, Lex Lumere said: "These coloring books can help children, adolescents and teens, crime survivors, veterans or anyone seeking a safe space to work through their trauma and PTSD to develop a healing mindset, increase their communication skills, and strengthen their coping skills to reach their goals."
Lex Lumere is an award winning commercial photographer and painter. After a head on car collision with a DUI driver day after Thanksgiving in 2015, she went into integrative medicine and has a State License in a nursing field and is Nationally Certified, with a focus on PTSD and trauma recovery due to six months of physical rehabilitation and her own healing journey. This was where she honed the proficiency, she brought to the therapeutic art coloring paperback books project.
To purchase Lex Lumere's incredible books, check out her amazon page and east on the therapeutic work of art she has to offer
Media Contact
Company Name: Success Source Media
Contact Person: Chari
Email: Send Email
Phone: 646-493-4582
Country: United States
Website: https://linktr.ee/LexLumiere