2022 CES Eco-friendly Surface Processing Company
CES 2022 has come back to the Las Vegas Convention Center for in-person exhibitions after 2 years, drawing a lot attention of people from various industries.
Selcos is a company specializing in high-vacuum and nano thin-film processing technologies and has developed an eco-friendly hybrid surface processing technology with competitiveness in carbon neutrality and sustainability.
Besides the surface processing technology that can replace the conventional plating processes, the company is supplying sputtering systems for semiconductors, display, and industrial decomposition processes; organic and inorganic decomposition systems for OLED panels and material development; laser lift-off chip mass transfer system which is the most critical process in micro-LED production; large-surface (above 5G) vacuum logistics systems; nano-thin film coating processing development service; and special alloy Target for sputtering.
Selcos's eco-friendly hybrid surface processing device can realize various colors and metallic textures on any materials such as plastics, glass, and metals using nano-thin hybrid technology. It is an environmental and low-cost surface processing technology that gives the materials special properties like hardness, strength, and water resistance, replacing the conventional plating and painting processes.
The OLED decomposition device is a vacuum decomposition system for organic and inorganic substances for AMOLED. This vacuum decomposition device, used for material development and panel production, allows the production of high-quality tools and development of substances with its vacuum high-precision alignment technology, efficient source control technology, and large-surface hyper vacuum (below 1E-8 torr) chamber production technology.
Additionally, the Beam Blast System is an eco-friendly hybrid system that can replace the conventional metal-plating process used for 5G filter cases. It adopted the dry surface reformation and dry cleaning process. Quality and performance tests cases are also complete for the 4G and 5G filters.
Selcos introduced tail light covers for electric cars, 5GRF ceramic filters, automotive exteriors, and radiator grills at this exhibition. Its representative said "Selcos's eco-friendly coating technology can be applied to all types of materials and products like plastics, glass, and ceramic. There are various fields of application this technology can cover such as home appliances, automotive, and communication devices. This technology was adopted to home appliances (TV exteriors) in 2013 for the first in the world and allowed our business to expand in the Chinese market."
"The market for 5G communication network filters, which is one of the most contributing technologies to the 4th industrial revolution, is drastically expanding. Selcos's products are assessed to have competitiveness in price and production efficiency. We are in partnership with some leading domestic and foreign companies and are developing products with them," he continued.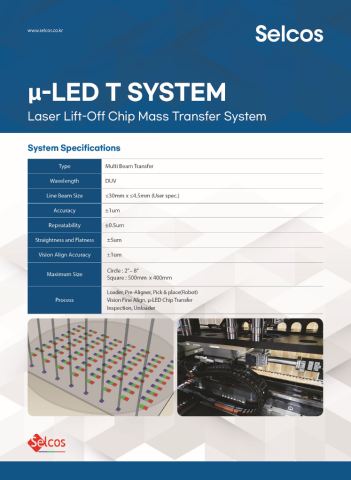 Media Contact
Company Name: SELCOS Co., Ltd
Contact Person: Media Relations
Email: Send Email
Country: Korea
Website: http://www.selcos.co.kr