Terra Unum College responds to COVID and Capitalism 1.0 by launching Swiss Social Entrepreneurship Degree and funding programme
Interlaken, Switzerland – One month ago, Terra Unum College, Switzerland opened an entirely new kind of online college designed to empower Social Entrepreneurs by giving them a quality education as well as a pathway to funding their new social venture. Over 250 students took advantage of an introductory enrolment offer. This illustrates the urgent need for online education during COVID and the increased interest students have about the transition towards sustainable business ventures in a post-covid world.
Nataliya Hertsovska PhD., Terra Unum College's Dean of Students, is convinced that Social Entrepreneurship will continue to flourish in a post-covid world, where companies focus on fairness towards their workers and do no harm to the environment.
"We recognise that there is a powerful movement at play here with today's youth. #Fridaysforfuture and the effects of COVID creates a window of opportunity to move the business mindset forward."
Winston Graf, manager of Terra Unum's Regent Board, is passionate about the model. "We must do more than just approach our environmental challenges academically. We need to bring about radical change through funding disruptive products and services which collectively address the deficits of capitalism 1.0. Capitalism 2.0 begins with the notion that it is imperative that we bring about a sustainable and circular economy. We strongly believe the only way we will achieve this aim, is to create one of our own."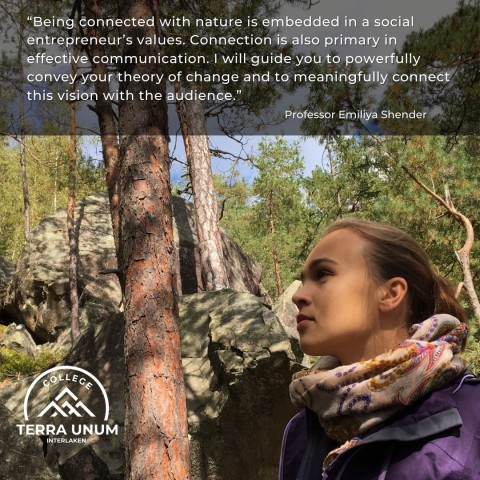 The unique programme focuses on delivering an online social entrepreneurship educational experience on any device, while coaching each student to develop their own social venture. Going beyond traditional idea incubation, there is also a unique funding model at play. The college has its own Swiss sustainability investment cryptocurrency called HEIDICOIN, which not only funds education and research at Terra Unum, but also creates a funding mechanism for new profitable social ventures to rapidly bring them to market.
Ksenia a student from the Ukraine, sums up her future objectives: "I wish to create a business that helps companies find new up-cylcing solutions for their existing products, which in turn will instantly reduce their footprint."
For more information, please contact Winston Graf, +41 31 520 7009 [email protected], or visit www.terraunum.ch, www.heidicoin.ch, www.winston-graf.ch
Media Contact
Company Name: Winston-Graf
Contact Person: Media Relations
Email: Send Email
Phone: +41315207009
Country: Switzerland
Website: https://winston-graf.ch/